Surfing in The Ranch near Ixtapa Zihuatanejo Mexico
The Ranch is a beach to do Surf in the state of Guerrero Mexico, this place is also known as El Capire or Secret Point.
This beach is located 42 miles from Zihuatanejo, just fifty minutes by highway plus an additional stretch of dirt road of approximately 15 minutes.
The Ranch Surfing Mexico
With better waves from March to November, we find left waves with more than 100 meters of travel, fast and with a very good wall mostly.
These waves are a natural attraction for national and foreign surfing athletes, it is also very frequented by surfers from towns near the City of Lázaro Cárdenas in Michoacán and Ixtapa Zihuatanejo.
This is important to consider as it is currently one of the beaches commonly saturated with Surfers.
However, if the waves are good or big there will be opportunities for everyone, since the waves develop in a wide space and between sections there will be spaces to take waves.
The Main Point for surfing in Playa El Rancho is located at the end of the stretch of dirt road, in front of the parking lot and next to Doña Julia's restaurant.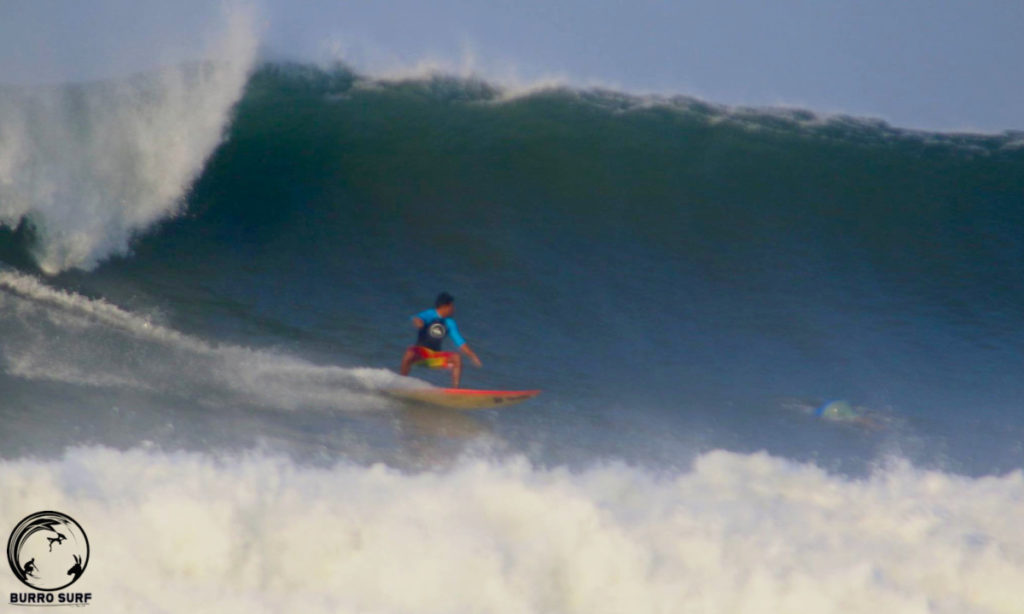 There is a small beach restaurant in the Rancho called "Los Amigos", staffed by Doña Julia and her family, a simple, pleasant and friendly place with visitors.

Los Amigos Restaurant
The Right Wave of the Ranch
Another point to surf is located south of the Restaurant, there are right waves, usually this place is less visited.
They are very close to the Union River and only approximately two hundred meters from the parking lot of the main access.
Often the right waves of the Ranch have more size or strength than those mentioned above.
The Ranch Mexico Surf Tour
I am Alberto Barbosa Tourist Guide certified by Secretary of Tourism, one of my favorite activities is to travel and show the beaches for surfing in Mexico.
Lic. Alberto Barbosa (Tourist Guide), The Ranch Guerrero Beach.
I live in Ixtapa Zihuatanejo, Guerrero and I invite you to accompany me to these Surf Trips on beaches of the Mexican Pacific Ocean in search of good waves.
Book a Surf Trip to the Ranch
Trip to the Ranch, private transportation from your hotel, boards for rent included and Surf Guide:
Recent Surfing Tours in Ranch
The Ranch I recommend for surfing, it is a very quiet place, for its characteristics away from the habits of the city.
Capire Surf Mexico
This beach with river rock floor is ideal for surfing with short board and longboard.
One of the best beaches for Surfing can be found in the state of Guerrero and only a few minutes from the state of Michoacán
Links of Interest
The Surf Guide in Ixtapa Zihuatanejo
Photographs by:
Rocio Acosta.
Harper Torres.